Eddystone Beacon – First look from the inside out
The Eddystone beacon is an open beacon format developed by Google. I got my hands on one before its official release. (n.b. the beacon was deprecated on December 7, 2020).
Eddystone Beacon – physical facts
Dimensions and weight: 30 mm diameter, 10 mm thickness, 7 grams
Promised lifetime: 18 months (30 year shelf life)
Range: 75 Meters with up to 120 Meters at maximum power
Enclosure: Waterproofed with an option for custom tooling
Battery: Replaceable CR2032 3V Li battery

Eddystone Beacon – sensors and interfaces
Push button
LED indicator
Temperature sensor (optional)
Motion sensor (optional)
Light sensor (optional)
Eddystone Beacon – legal stuff
Eddystone Beacon – from the inside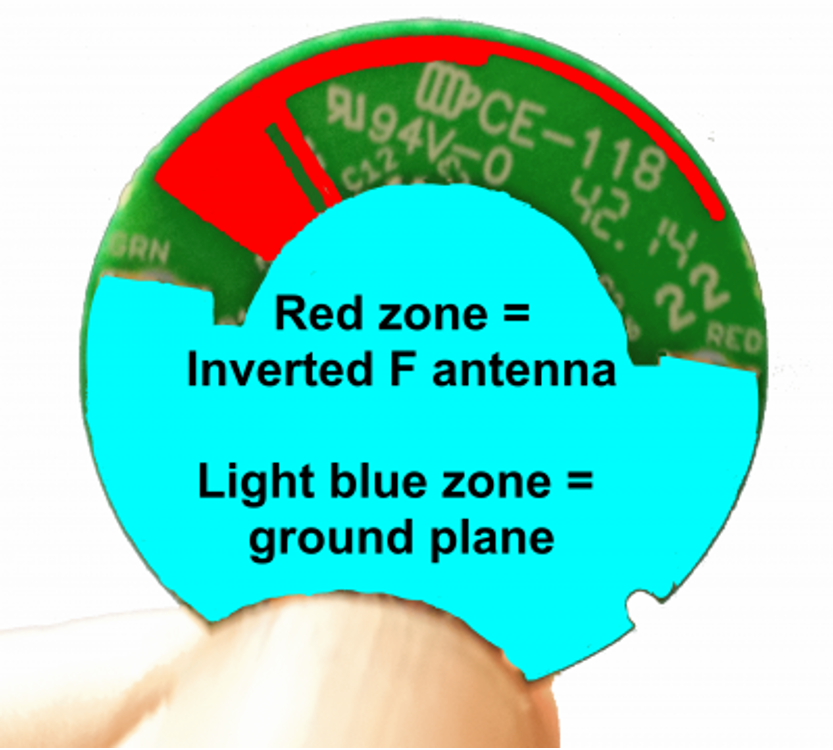 Inside the Eddystone Beacon is an inverted F antenna. On a closer look it is not just a copy of a common public antenna design. The F structure is not a straight line or a meander. It is a round curve in parallel to a round small round ground plane. Moreover, the antenna structure is not linear. It shrinks from top to the end.
The ground plane is as large as it can practically be inside the small BLE beacon. The metal battery holder is a part of the ground plane as well. Just open any BLE beacon you already own and compare it yourself. Note that some BLE beacons are glued which is a shame because it is then impossible to replace the coin cell battery.
Eddystone Beacon – top and bottom view

The BLE beacon is optimised for RF performance and price. The self-made inverted F antenna will save the cost of a ceramic chip antenna. The two black drops on the PCB save the cost of packaging the integrated circuit die and bond it directly to the PCB because the production and test of two ICs adds cost.
The plastic enclosure is split in two parts. The top of the enclosure is flexible allowing it to form a perfect seal so as a result, the beacon is water-resistant.
Furthermore I can help you with the schematic diagrams of the Eddystone beacon. You can also take the source code and rework it to your own requirements. You are free to make a one-to-one copy, but you have no chance of producing it more cheaply.
Note: You can get the Eddystone beacon with other beacon profiles like the iBeacon as well. As already mentioned earlier in this post you can change the source code and protocol as you wish because it is an "open beacon format".