Antenna Consulting
Where can the akorIoT team help?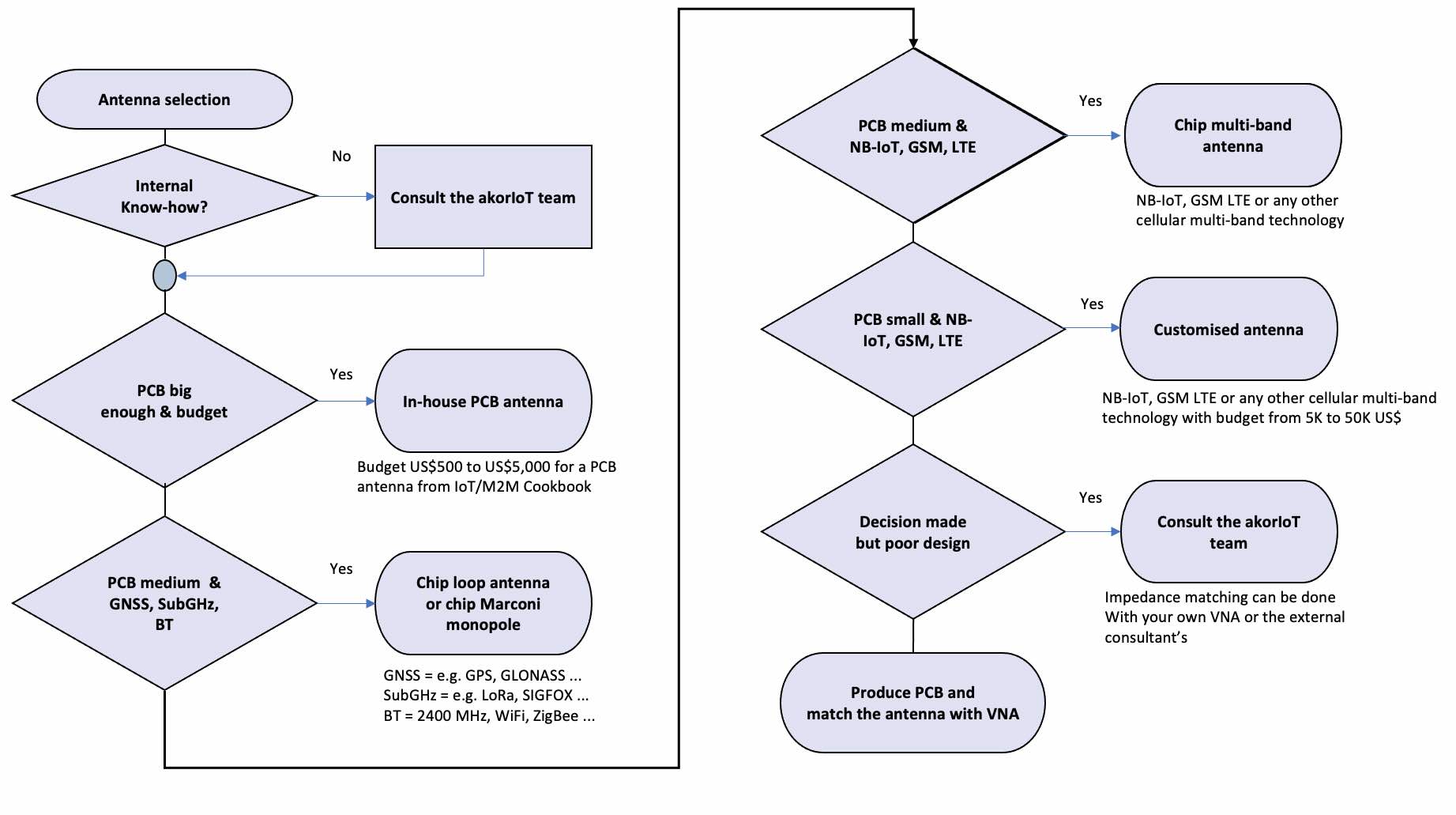 Effective Approach
Our effective approach to antenna consulting delivers lower costs and higher performance. If you're ready to start your project with the akorIoT team, please take a look at our flow diagram above to see where in the project timeline you are engaging us and please prepare answers to our questions below and get in touch, we look forward to hearing from you!
Step 1: Project Questionnaire
In order to best help you with your project we ask that you consider and be ready to answer the following questions.  This will allow us to estimate the degree of support that you are likely to need and the overall costs.
Please provide a link to your company profile or website
In outline, what is your planned IoT / M2M application?
Do you have prior experience designing hardware for wireless applications?
What will be the estimated quantities in the first, second and third year of mass production?
In which countries would you like to sell your product?
What are your target dates for: Project start, testing of first prototype and to submission for the necessary certifications in your chosen countries?
Are you aware of the number and type of certifications you will need and their costs in your target territories?
Will the antenna be inside or outside the enclosure?
What will be the size and shape of the enclosure, or the PCB inside the enclosure?
What kind of supply voltage and power source do you plan to use (AC, DC, battery inside with charger etc.)
Do you already know that you will need to outsource the development?
Step 2: Basic Proposal
Based on your answers to the above questions we will provide you with a basic proposal for a hardware and software concept outline free of charge.
For small quantities we recommend designs utilising a connector-based radio module.  For medium to large quantities we prefer Surface Mount (SMT) mounted radio modules; all components specified in this case will be surface mount to save money and manufacturing time and the cost of manual work.
If your IoT/M2M device is to be a GPS tracker then we will need further use case details. The hardware designs to track a bird, a truck or an expensive asset like a pedigree dog are quite different.
If you plan to have an embedded antenna on a PCB inside a small enclosure, then you will save a lot of money by designing the device around the antenna.  The antenna is the key in any wireless application.
Thank you for your time and thank you in advance for your detailed answers. The more detail you can provide, then the more detailed and accurate our recommendation can be.