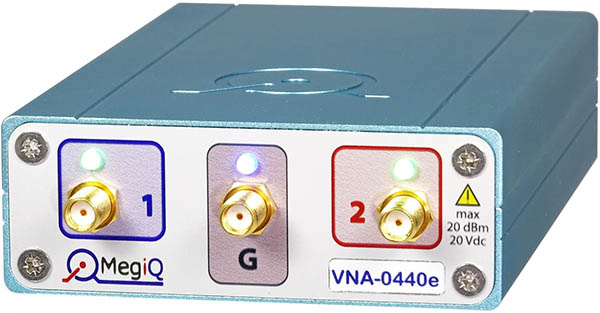 MegiQ 4 GHz 3-port Vector Network Analyser
VNA-0440e
 2+1 port VNA
Signal Generator Output
Bias Voltage/Current generator
 Frequency range 400 MHz to 4 GHz
 Measuring power -30 to +5 dBm
 Real time sweep speed
 Port calibrated
 Parametric sweeps
 Match Circuit Calculator
 Free EU shipping plus 30 day money back guarantee (less any return to stock costs)
Price € 3405.00 plus VAT
Price includes 1 hours live video training
Further training available on request to support your project
Overview
The VNA-0440e is a full bi-directional 2½ port Vector Network Analyzer that is controlled from a PC through a USB connection.
The software included provides full control over the measurements, settings, data storage and reporting.
This VNA is ideal for measuring all kinds of micro-circuits like antennas, attenuators, amplifiers etc. Its frequency range includes most popular telecom bands like GSM-GPRS-LTE, WiFi, DECT, GPS, ISM, Zigbee, Bluetooth.
The VNA Software has an integrated Match Circuit Calculator that Calculates a match circuit from the measurement and simulates this circuit in real time.
With its small size it can also be used near the antenna inside a large device or installation. It is also ideal for on-site measurements.
The extra Generator port provides an additional signal port that can be used for measuring 3-port devices.
A built-in Bias Generator provides a voltage/current source from -12V to +12V and 100mA. Each of the three ports can be routed to either the bias voltage, ground, or open.
Included in the product are:
VNA-0440e
PC-software, for controlling, saving data &set-ups, analysis, reporting, etc.
Power supply and USB Cable
Documentation
Carrying case
Available accessories include SMA, UFL and Balanced adapter and calibration kits.
With its VNA Application Programming Interface the VNA-0440e can be used for automated production testing.
Features
2½

port bidirectional VNA
Signal Generator output
Measure S11, S12, S21, S22
Frequency 400 MHz to 4 GHz
Power -30 to +5 dBm
Sweep up to 20001 points
Sweep speed up to 4000 samples per second
Port calibrated
Full 12-term normalization
Parametric sweeps
Match Circuit Calculator
Deembedding functions
Calkit manager
Display formats: Source impedance, Port impedance, Return Loss, Forward Loss, SWR, Impedance (mag/ph), Impedance (Smith), Gain (mag/ph/group delay), Gain Polar.
VNA Software
Presets: With several preset measurements for 1-port and 2-port measurements the VNA software is very easy to use for most common measurements like impedance and gain.
Calibration: Measurements on SMA devices can be done directly at the VNA ports without any calibration. For measurements through cables and adapters the software guides through the Open-Short-Load-Through calibration process and the VNA front panel will indicate which termination to calibrate next. The Dual Calkit option makes calibration 3 times faster.
Screen: The screen was laid out for operation with a touch screen. The graphs can be dragged in any way with any of the graph types for the measurement. There are several colour schemes.
Sweeps: The software provides a sweep manager that allows combining multiple parameters (frequency, power, bias variables) into a parametric sweep. This is useful for characterizing active circuits like amplifiers, switches, varactors, pin diodes etc.
Session Manager: Measurements can be stored in a session manager that keeps the measurements for a session in a single file. All settings including calibration, screen layout, markers etc are stored in the session.
API: An Application Programming Interface for VB, C++, C#, Labview, etc is available to allow integration of the VNA-0440 in a lab setup or an automated factory testing system.
Match Circuit Calculator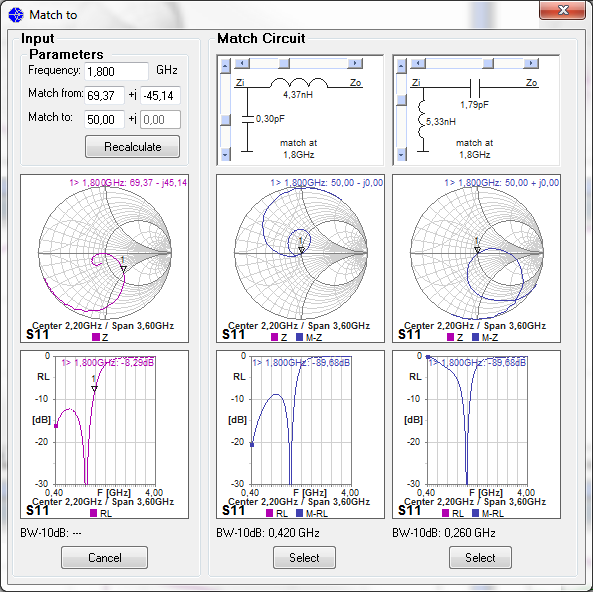 A powerful feature is the built-in match circuit calculator. When a circuit (antenna) is measured the user can click at the appropriate frequency in the Smith chart and the match calculator will propose several circuits that matches that frequency to 50 Ohm, or another impedance. It also shows the resulting bandwidth and allows fine tuning of the components to optimize the result.
When a match is selected the result will show in the measurement and the match is simulated in real-time during further measurements.
With proper calibration of the measurement the results of the matching circuit are well duplicated on the target board.
Specifications
VNA

2 Port full bidirectional

1 port single direction

Frequency

range

accuracy

resolution

400 to 4000

2

5

MHz

ppm

kHz

Return Loss
P1, P2
>15
dB
Generator

Power

Accuracy

Resolution

Harmonics

-30 to +5

+/- 1.0

0.5

<-35

dBm

dB

dB

dBc

Detectors

Range

input attenuator

Bandwidth

-75 to +20

0-30

0.5 – 5 – 10

dBm

dB

kHz

Directivity

400 MHz  – 3 GHz

3 GHz – 4 GHz

55

45

dB

dB

Bias generator

Voltage source

Current source

Port DC control

-12 to +12

0 to 100

Open – Gnd – Bias

V

mA

Sweep

Max size

Speed 1-port -4000 pts

Speed 2-port -4000 pts

Speed 1-port -25 pts

Speed 1-port -25 pts

Variables

2001

1000

2000

17

33

Frequency, Power, P1 P2 attenuator, Bias Voltage, Current

Sweep variables can be combined and nested in a parametric sweep

Points

ms

ms

ms

ms

Software

Operating System

Recommended PC

Windows XP – Windows 10

Intel I3 or I5 system
Display formats: Source impedance, Port impedance, Return Loss, Forward Loss, SWR, Impedance (mag/ph), Impedance (Smith), Gain (mag/ph/group delay), Gain Polar.